[Search]
To get a notice to your e-mail when this newsletter is updating wirte your e-mail here:
Do not take or publish any material from this site!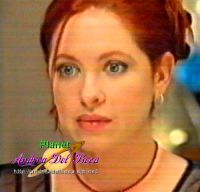 This is the story of Andrea's telenovelas and their consequences in Argentina, and the rest of the world:
First, in 1973, we had a very little Andrea playing Pinina in "Papá Corazón" (Papa Heart), this telenovela was broadcasted only once a week (Fridays, 8:30 PM), but it had a big impact on the Argentine audience, maybe a negative impact (that's what the Psychologists Association of Santa Fe thought, they said the telenovela might harm the mental health of the children who watched it) because Pinina talked with her dead mother and had tried to kill herself. Anyway, this show was seen in a lot of countries of Latin America (Peru, Panama, Puerto Rico, Venezuela and Honduras) and in the U.S.A.. Two years later, a sequel is made (Papá Corazón se quiere casar, Papa Heart wants to get married) with big success.
At 13 years old, Andrea starred "Andrea Celeste" (directed by her dad), a telenovela that was repeated in 1993 and 1998.
In 1980, "Señorita Andrea" (Miss Andrea), produced and directed by Nicolás del Boca, finds Andrea and Raúl Taibo (her co-star in "Andrea Celeste") together again, but the partner of the following telenovela in 1983 ("Los 100 días de Ana", Ana's 100 days) was singer and actor Silvestre (Andrea's boyfriend in real life during that time). It was seen in Italy, U.S.A., Latin America and Spain.
During 1987/88 "Estrellita mía" (Little star of mine) was shown, with Ricardo Darín. At first it wasn't very successful, but as the time went by it achieved an audience of over 1.5 million people in Argentina!! It could be seen in France, Italy, Spain, America and part of Asia. It was an incredible success for that time.
From the 90's decade on, Andrea del Boca was considered definitely as the Argentine telenovelas queen (and her sister Anabella helped in the wardrobe area). "Celeste" in 1991, written by her brother in law Enrique Torres, produced by Raúl Lecouna, and directed by Nicolás del Boca, was a wonderful success that had a social side, because it dealt with no taboos the AIDS problem (besides it led to a second part years later). With "Antonella", 1992/93 (also written by Torres and directed by Andrea's father), the success continued, reaching countries she had never reached before, like some of Africa. In Argentina was seen again in 1999.
Then, with a change of TV channel, came the first show in which we see 2 characters (twins) played at the same time by Andrea del Boca: "Celeste, siempre Celeste" in 1993/94. This is the sequel of Celeste and Franco's story (G. Bermúdez, also with Andrea on "Celeste" and "Antonella") but with the discovery of evil Clara, who appears from nowhere to complicate things. It's said that this show in Argentina wasn't such a hit as "Celeste", nevertheless it had loyal watchers (like myself) in many countries. It could be seen again in Argentina from May 1st, 2001 till February 6th, 2002 (on "Volver" channel). At the end of 1994, "Perla Negra" (Black Pearl) with Gabriel Corrado made its entrance. A very original story written by Enrique Torres with a special impact in Spain, where Andrea won an award as best actress for the Perla Wainstein role. Gabriel Corrado played "Julián" on "Zíngara" in 1996, it wasn't as successful as the previous shows in Argentina, but it was very important for its production cost (8 million dollars!!) and for the original character of the gypsy woman Andrea played. In 1997 appears "Mía, sólo Mía" (Mía, only Mía) with a new telenovelas actor (Pablo Echarri) a little younger than Andrea. This show in Argentina last for very few months because
of the low ratings it had at the beginning, the executives of Telefe channel didn't want to wait to let the ratings go higher and decided not to show it anymore (very bad decision!!), but in the other countries outside Argentina it last longer. They're showing it again on Volver channel since February 20th, 2002.
(For information about 2001/02 hit "El sodero de mi vida", go to my previous article).
Wrriten by: Maximiliano Barrios. Buenos Aires, Argentina
---

---
Copyright(c) 2002 Planet Andrea Del Boca, Andrea Del Boca Forever. All rights reserved.