[Search]
To get a notice to your e-mail when this newsletter is updating wirte your e-mail here:
Do not take or publish any material from this site!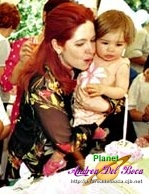 Andrea & her doughter celebrated Anna's first birthday,

Adrian & Anabella Del Boca, travelled especially for the event.
---

---
Copyright(c) 2002 Planet Andrea Del Boca, Andrea Del Boca Forever. All rights reserved.