ANDREA DEL BOCA'S SINGING CAREER
Andrea del Boca became famous all around the world with her acting in telenovelas. Then she decided to start her singin career and to show her fans that she is not only tallented for acting and that she is also very good as singer. Her career started in 1986 year when she had a tour of concerts all around the Italy. Concerts were very succesfull and next year Andrea recorded her first solo album called " Con amor ". Album had 10 beautifull songs and it was huge success. Second album called " Te amo " followed. It was realised in 1989. After that album Andrea made a little pause in her career as a singer and she dedicated herself to her acting and her telenovelas. Then in 1995 year she realised the album called " El amor ". The song " El amor " from that album was theme song for Andrea's telenovela " Perla negra " in which she played with Gabriel Corrado in 1994. That song is very beautifull, one of her best songs ( my oppinion ). There are also a lot of other songs that are also great, same as " El amor ".
After album " El amor " Andrea didn't sing again. She only sang the theme song for her telenovela " Mia, solo mia " in 1997 ( song had the same name as telenovela ). Andrea also singed that song in hebrew, and it sounds great on both languages, hebrew and spanish. That song was published on Andrea's album " Greatest hits " in 2000, together with the most popular songs from all her albums.
I think that it is time that Andrea record new CD. Most people like her as singer as same as they like her actress. I think that everybody would be happy to hear her singing again. I hope that Andrea will read this and that she will decide to begin singing again. It would be great to hear her voice again, singing new songs. I am sure that her next album will be big success and I hope that she will realise it even this year. I would like to hear new songs preformed by her. What about you ?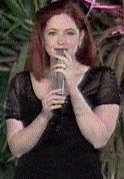 Andrea Del Boca singing "Mia" in hebrew (israel 1999)
Written by Acka Belacic
http://www.andreadelboca.8k.com

---
Copyright(c) 2002 Planet Andrea Del Boca, Andrea Del Boca Forever. All rights reserved.