[Search]
To get a notice to your e-mail when this newsletter is updating wirte your e-mail here:
Do not take or publish any material from this site!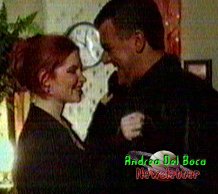 Andrea Del Boca (Sofia Campos) and Daddy Brieva (Alberto Muzzopappa)
Andrea Del Boca: She is without any doubts one of the most admired and respected actresses all over the world, and especially in her country (which is my country too), Argentina.
Recently, on January 25th, 2002 an audience of over 2 million people could see how "El Sodero de mi Vida" finished. This lovely story about a Soda vendor, Alberto Muzzopappa (Dady Brieva) and a Psychologist focused on Sexology, Sofia Campos (Andrea Del Boca) began in Argentina on March 5th, 2001 (on Dady's birthday) broadcasted by channel 13. From the very beginning it was a huge success, people were missing Andrea a lot since 1997 when "Mia, solo Mia" was shown on Telefe channel. Anyway, we all could miss her a little less because we had the opportunity to see her on the year 2000 in the movie "Apariencias" with Adrián Suar (One of the responsible for "El Sodero...", he was the one who had the idea to make the show and asked Andrea to be the star), and because there is a channel on cable TV called "Volver" ("Going Back") which shows old TV programs, among them "Celeste, siempre Celeste" and soon will broadcast "Mia..."!!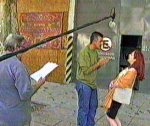 Andrea Del Boca and Daddy Brieva in the shoothings
After many twists and surprises, Sofia and Alberto's story had a happy ending but for you all over the world who will watch (or are watching) the show, I'll keep my mouth shut, I won't tell you how it ends so as not to ruin the surprise (But if you want to know the end send me an e-mail). A couple of days before "El Sodero..." was over, all the cast and crew went to celebrate to a restaurant in Buenos Aires, but Andrea didn't go (I heard it was her father's birthday, so she decided to stay at home with him and the rest of the family).
About the new project "La Institutriz" I can't say more than that: it's just a project, they still don't know if Gustavo Bermudez will be Andrea's co-star, but everybody hopes so (Specially producer Raul Lecouna).
Well, that's all folks!! (at least for now).
Wrriten by: Maximiliano Barrios. Buenos Aires, Argentina
---

---
Copyright(c) 2002 Planet Andrea Del Boca, Andrea Del Boca Forever. All rights reserved.